Coordination training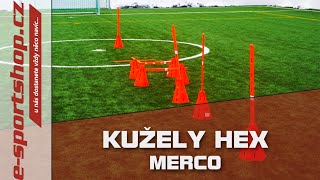 One of the most important skills of athletes is coordination. Coordination is the ability to make complicated movements in unexpected and often changing situations. We are also aware of the importance of coordination and its practice and therefore we offer a wide range of coordination aids.
Build your own obstacle course
In our shop we offer many kinds and possibilities how to build your own agility track, which will exactly meet your requirements.
Agility coordination ladders
It is one of the most popular elements that underlies any training of speed and mobility. Here you can find ladders ranging from classic types, to seductive or triple ladders with the possibility of adjusting the distance and height of individual rungs.
A special kind of jumpers are sets made of hexagons or circles, thanks to which you open up new possibilities of training.
Coaches loved and often hated by athletes, which is a great complement to fitness training. In many sizes and colors, but also with the possibility of connecting the cones to each other by means of a PVC stick, which easily creates additional obstacles.
They work great if you want to increase the difficulty of training easily and noticeably. Therefore, you can find them in several sizes. There are also obstacles with adjustable height. Special types are obstacles that, due to the balance, in the event of overturning return to their original position.
They perform a similar function to cones. With the difference that they are smaller and therefore also more storage. You can easily create more complex and longer tracks. They are made of softened plastic, which is resistant to crushing or other deformation and thanks to bright colors are easily visible.
They are sets, composed of sand or water-filled domes, PVC rods or circles, and couplings to connect all components together. With these sets you can easily adjust the height and distance of each obstacle.