Balance desks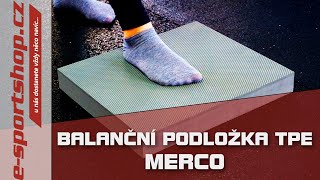 Balance pads help athletes maintain balance. They are used in various aerobic and balance exercises. It is also widely used in health care as a form of convalescence and regeneration. We offer balancing pads of different brands, colors and sizes and type of execution. The balance pad "Bosu" or AirStep pad has recently become very popular.
Balance exercises and aids
Balance exercises are understood as exercises on unstable surfaces. Exercise on these unstable devices results in equilibrium responses that force concentration
on a certain movement. This leads to greater involvement of the central nervous system. It leads to improvement of balance and development of coordination of movements. The balance depends on
three systems:
1. Passive system (bones, joints and intervertebral discs)
2. Active system (muscles directly affecting the spine)
3. Nervous system (functioning of receptors and central nervous system)
We divide the balance into static, dynamic and balancing. Static balance is the ability to keep the body in a labile position without moving. Dynamic equilibrium, on the other hand, is the ability to move in an unstable position. Balance is understood as maintaining stability on a shaky exercise aid or keeping an object in an unstable position. Such an object balancing ability can be applied in several sports such as pole vault and in modern gymnastics with hoop or ball exercises.
Stability of the spine is important for ideal distribution of strength requirements between muscle groups, small deep and large superficial to avoid overloading some muscles.
inflatable pads of mostly oval shape can serve as a seat wedge to stimulate correct posture or a balancing surface or a float plate
light elastic inflatable ball of smaller size, usually with a diameter of 26 cm with a load capacity of up to 160 kg. It was first designed for breathing exercises, but its possibilities are much wider. This ball has found application in physiotherapy centers, in homes and vehicles (to support the lumbar spine) and is gaining in popularity. The big advantage is that it is light and compact.
Balls with double stabilizing surface and shape resemble potato or peanut. They are suitable for exercising pregnant women, older people and children in kindergartens
gymnastic ball made of flexible, durable material with a diameter of 35 cm to 120 cm. Its load capacity is up to 300 kg. When sitting down, it is important to choose the right size of the ball, which can be derived by body size.
a device consisting of an inflatable part that looks like a half of a gymnastic ball, and a circular base made of solid plastic. The name is derived from the abbreviation "both sides up".
or Twister is a rotating circular plate helping to relax and mobilize deep back muscles. The feet are on a circular movable plate and the exerciser moves it clockwise and counterclockwise.